Using MERLOT
MERLOT provides many Open Educational Services that you can use to support your own individual learning, learning within a classroom, learning for an entire K-12 or higher education institution, and training/professional development for non-profit and for-profit organizations.
How Can You Learn To Use MERLOT Easily?
MAN - SHOWING EFFECTIVE PRACTICES with CASE STUDIES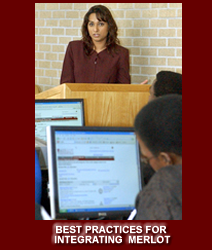 The case studies illustrate the different ways that pedagogy, content, instructional context, and resources interact to create exemplary practices (or not so effective practices. You are welcome to contact the author of the case studies for further information.
DOWNLOAD: BEST INSTRUCTIONAL PRACTICES USING MERLOT:
top of page